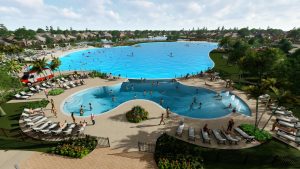 Every year, the Houston Business Journal announces its list of projects it considers game changers in the field of residential real estate. This year, Land Tejas' Balmoral community was included on that revered list.
The groundbreaking of a crystal clear lagoon in Balmoral was named one of eight finalists in the publication's "2017 Deals of the Year: Residential Real Estate." The project was picked because Land Tejas was the first Houston-area developer to ink the deal with Crystal Lagoons U.S. Corp. and the lagoon will be the first in the nation to open within a fully completed amenity center when the Balmoral crystal clear lagoon opens summer 2018.
Balmoral Amenities
The 2-acre Balmoral lagoon broke ground in October and will feature a Kid's Cove and two beaches — a Family Beach with cabanas and lounge chairs, and a Serenity Beach for adults. The lagoon will anchor the development's 8-acre, $10 million Amenity Village that includes an infinity-edge pool overlooking the lagoon, a food truck courtyard, hammock park, sand volleyball court, playground and splash pad. A 12-foot wide GreenBoLT trail system will enable residents to walk, bike or take electric golf carts and Segways to Balmoral amenities and points of interest.
Construction of Balmoral's crystal clear lagoon is proceeding on schedule, with the filling of the lagoon anticipated to start spring 2018. Home sales in the community have been strong, reflecting the excitement surrounding the lagoon, which will be the first in Texas when it opens. Pricing in Balmoral is from the $190,000s.