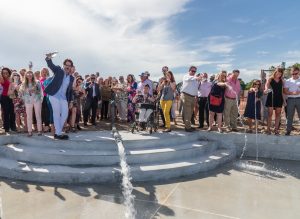 (Houston, Texas – June 20, 2018)              Many of Houston's top real estate executives, homebuilders, local officials and others were among the first wave of people to add water to Texas' first crystal clear lagoon, now in its final stage of construction in Balmoral.
A Fill the Lagoon party hosted by Balmoral developer Land Tejas Development was held Thursday, June 14, in the Humble-area community. During the invitation-only event, guests helped begin the process of filling the 2-acre lagoon and also learned about the lifestyle residents will enjoy at the lagoon and the patented process that will allow the 2-acre lagoon to use significantly fewer chemicals and energy than a traditional pool.
"Life here in Balmoral is going to be incredible," emcee Michael Garfield (the Hi-Tech Texan®) told the crowd. "You won't be able to find anything else like this in Texas when the lagoon opens — only here in Balmoral."
The crystal clear lagoon — which will have depths up to 8 feet and will feature a Kid's Cove and two sand beaches — is a signature feature of Balmoral's $13 million, 8-acre Amenity Village. Overlooking the lagoon will be an infinity-edge pool. Other amenities at the complex include a clubhouse, food truck courtyard, hammock park, sand volleyball court, playground and splash pad.
The crystal clear lagoon will be the first to open in Texas and the first in the nation to open with fully completed amenities when the Amenity Village debuts later this summer.
"This is groundbreaking not just in the elevated level of amenities we are introducing, but also in terms of the crystal clear lagoon technology," said Tim Johnson, Director of Community Sales and Marketing for Land Tejas. "These lagoons use 100 times fewer additives than traditional swimming pools and 50 percent less water than is required by a city park of the same size. The result is lower maintenance costs and minimal environmental impact."
Approximately 150 families have made their home in the 580-acre Balmoral since sales began last year. Builders Colina Homes, D.R. Horton, Empire Communities, Gray Point by Gehan Homes, Highland Homes, HistoryMaker Homes and Westin Homes offer designs priced from the $200,000s to the $500,000s.
Balmoral is located east of Highway 59 and a half mile north of Beltway 8 in the West Lake Houston area, minutes from Generation Park. More information is available at www.balmoralhouston.comor at the community information center, open 10 a.m. to 6 p.m., Wednesdays through Sundays at 11930 Talman Run Drive.